Testimonials

Irim Malik

The Meadowlands Family Success Center has impacted my life in a very positive way. At first I started coming for the children's program. I have two boys, a five year old and thirty three months old. On my first visit I came across a very nice and polite member of MFSC and I felt like I was at home. They also informed me about all the other programs that take place at the MFSC. MFSC gave me a chance to interact with other community members and not be isolated. My children like coming to story time, Arts and Crafts and munchkin time to socialize with other kids. Also I want to mention that everybody, Shamir, Jackie, Vicky, Jenira are very nice. I consider them members of my family.

---
Maria Shenoda

That is a good question and I could give you many answers, but the best one by far is that it has given me a place at which I can offer abit of myself to the community. I am an introvert by nature and I am content with watching the world go by. So it was a bright day for me when I first came in contact with the center and all the wonderful people that work and volunteer there. Their mission to help bring everyone together in the community , to help everyone feel a little less alone and more like family , that spoke to me very profoundly. I hope that I will be able to help others as much as they have helped me. I've been blessed!


---
Tazmisha Kopic

When I walked into the Meadowlands Family Success Center, my family was really broken. We have been hit so hard by Hurricane Sandy and we lost 85% of our belongings. When I came to the MFSC, I had lost all hope. I had no faith that anyone was here for me. I looked and I looked for someone to help me and support my family and I couldn't find anyone. When I walked in the door, I was welcomed with so much love. They embraced me and my children and it was so awesome; I have yet to have found that love anywhere else. I learned to be a better parent, mother, a better teacher to my children and to kids that just around me or those who hang out around my children because of the Meadowlands Family Success Center. They taught me to believe in myself when no one else does, they told me to have confidence in myself, and to have strength to just keep on going another day. I would like to personally thank them. Jenira, Jackie, Shamir, Maria: You guys are so awesome. I just thank you for all that you do for me and my family and for pouring into our lives. There are also things that they have there that we wouldn't have been able to do had not the finances they provided for us. We went to Medieval Times with my children and we had a great time. I've taken parenting classes and I'm also taking therapy classes there as well as my children for those impacted by Hurricane Sandy to deal with the emotions and distress that comes with it. It has really helped me to become a better person. Thank you Meadowlands Family Success Center, please keep on doing what you are doing!


---
Johandra Molina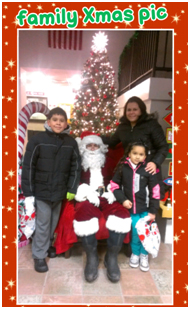 It is hard to find the right words to thank the Meadowlands Family Success Center for all the help that not only I received, but my children as well in such little time. I am profoundly thankful and blessed to have met such wonderful, loyal, dedicated, and respectful people such as Yaniher Perlaza and Katelyn Severson from Hope and Healing and last but not least Jacqueline Hur from the Meadowlands Family Success Center. From the smallest gesture to the largest gesture, I can say that my goal has been reached. They collaborated and worked hard as a team from day one when I walked through the Meadowlands Family Success Center. When I first came, I had no hope of any kind. However, they worked with everything they had to help me find resources I needed such as, food. They also worked to find other ways that I can get assistance. Even a week before Thanksgiving, Jacqueline surprised my family with a Thanksgiving basket that was delivered to our house. The Meadowlands Family Success Center connected me with Hope and Healing which is a blessing because thanks to them, I am free of debt! I was also introduced to Christine Incontro, from United Way, who not only offered her services for free, but motivated me to believe in myself. She made me realize I had forgotten who I really was and the big responsibility I had as a single mom. Thanks to her help, I found a job where I enjoy what I do and work with such people that care for me and my kids. I am thankful to Christine for all the help and support. I would like to keep extend my gratitude for The Meadowlands Family Success Center and for all your love and compassion shown from day one until now. Christmas is around the corner and Jacqueline continues to be caring; thinking of me and my family. Jacqueline has become the guardian angel for my two kids. I have to say that I have been blessed with such wonderful people. Our hearts and hopes were broken after Super storm Sandy because everything that we had accomplished was lost in matter of hours. Even after our lives were put in danger, I am a true believer that God works mysteriously for his reasons. The Meadowlands Family Success Center has worked to get me where I am now. Thank you. Thank you very much and God Bless all of you.

---
Gloria Santos - Mooanchie, NJ

The moment I walked through the doors of the Meadowlands Family Success Center I was warmly welcomed into a "home without walls" (as described by Jenira Hill, Director of the MFSC). It was eminent that here, the focus is on creating stronger and healthier bonds amongst our communities and their members. Age, ethnicity, social or professional status have no bearing on which services are offered; everything is available to everyone. The mission and transparency of this center are truly inspirational.

The past month has been extremely fulfilling for me! The MFSC has awakened the dormant desire that I had to become involved in the community. All of a sudden the mom who is always on the go with family, a full time job and wearing a million hats at a time (and who claimed she didn't have a moment to herself) has found time and talents that can benefit the community. I don't have a degree or live in a fancy neighborhood but I am passionate about working with the MFSC to help strengthen and empower my community, whether as a group or one individual at a time. My goal is to get my children involved in volunteering at the center so that they can experience the sense of accomplishment that giving to others provides.

I have no doubt that the Meadowlands Family Success Center is going to change the communities of Moonachie and Little Ferry in many ways. Everyone, from children to seniors, will be able to benefit from the many services and activities that will be offered.