What We Do: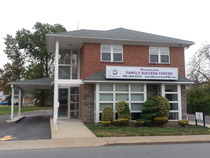 The Meadowlands Family Success Center ("the Center") is a neighborhood gathering place for all Bergen County residents. A place to receive support, information and resources that help reduce isolation and foster connections between community members.





Our Values

: Small pictures/icons related to each value and a small description.

Support: The FSC cares intensely about others: FSC staff, visiting families, community, and business partners. We are committed to work with integrity and to listen with respect to others and to value differences.

Compassion: The FSC is committed to being compassionate toward each other and visiting community members.

Action: become an Agent of Change.

Empowerment: One cannot put passion into others, you must inspire and elicit it -- for the passion is there already."

Family: An atmosphere where individual differences are appreciated, mistakes are tolerated, communication is open, and rules are flexible — the kind of atmosphere that is found in a nurturing family

Collaboration: Alone we can do so little; together we can do so much.


Hours of Operation:


M + W: 11am-7pm
Tue, Thu, Fri: 11am-6pm
2 Sat per month: 10am-2pm



---

It is all about quality family time at the FSC. Fun activities will be provided such as:

Family Movie Nights
Family Game Nights

Kids Crafts
Story Time (for preschoolers)
Adult Crafts

The FSC will present workshops throughout the month - please click on

Calendar of Events

for our full calendar of programs. Programs scheduled at the FSC have included:

Parenting Power Hour
Financial Peace University
Financial Literacy: for kids
Nutrition classes
Yoga
STEM workshops
Leadership development workshops

All programs are presented to the public free of charge and can be provided in Spanish.
---
Who's Who At the FSC:


A

Family Partner

is on staff to work with families and connect them to community resources. A bi-lingual Family Support Partner is also on staff.

A

Volunteer Coordinator

is on staff to help individuals make an impact within their community by matching the

right individual

to the

right volunteer opportunities.

Inquire

HERE

to learn how you can help today!

Fabricio Salas- Director

Zikea McCurdie- Family Partner

Keila Medina- Family Partner

Michelle DePippa- Family Partner

Mark Quiles- Volunteer and Community Partnership Coordinator

Our Meadowlands Council

:

Our council is made up of parents and community members that work alongside FSC staff to bring family friendly programs and activities to the FSC. Responsibilities of a council member include the following:

Participating in leadership development trainings.

Assist FSC staff with planning and running community events
Volunteering at the center
Marketing the FSC mission
Attend monthly CAB meetings